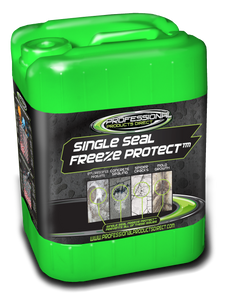 Single Seal Freeze Protect - 5 Gallon - Concentrate
Single Seal/Freeze Protect penetrates the pores of the concrete to stop water and water vapor from finding it's way into the surface of the concrete by forming a glass like silicate barrier within the pores of the concrete. Since moisture cannot penetrate glass, water and other precipitation can't seep into the concrete. This eliminates spalling, and cracking during freeze-thaw cycles.
Once applied, it dries, depending on weather conditions within minutes, or up to four hours. One gallon can protect up to 300square feet depending on the porosity of the concrete, will not yellow, or make the surface slippery.
Indoors:
May be applied to cured or damp (no puddles) concrete
Can be applied to newly-placed concrete as soon as you can walk on it (no puddles)
Creates a vapor barrier to prevent moisture from passing through the concrete
Suitable vapor barrier for drywall finished basement
May be painted over
Will not yellow, chip, or flake off concrete surfaces, and wears only as the concrete wears
Inorganic does not promote mold and helps reduce basement musty odors
Outdoors:
Eliminates the need for concrete curing blankets
Can be applied in sub-freezing temperature We recommend 28 degrees and rising
Has been tested by an independent lab to be effective to – 20 degrees (test available)
Can be applied to dry or damp (no puddles) concrete
Can be applied to newly placed concrete as soon as you can walk on it (no puddles)
Will not yellow, flake or peel off sealed surface
Single Seal Freeze Protect can be applied with a spray applicator, brush or roller One thin application is all you will need – don not double apply.
Our Products Will Help Firmly Seal Your Surfaces!
Already mixed for your use, Single Seal & Freeze Protect is a user-friendly product that can be applied to any clean surface with open pores. It goes on smoothly, is safe to use both indoors and outdoors and invisibly covers concrete surfaces without causing peeling, yellowing or discoloration. Once applied, your concrete is protected by a moisture-proof vapor barrier that will help prevent spalling damage and the ugly white powder known as efflorescence. It will also assist with stain resistance and reduce ice bonding, making the surface easier to shovel in cold, snowy weather.
Concrete Blanket
Single Seal & Freeze Protect can also be used as a concrete blanket. Ordinarily, applying concrete blankets requires laying down yards and yards of expensive and clumsy blankets in order to protect the concrete from freezing damage.
With Single Seal & Freeze Protect, you can apply a thin, clear layer to your concrete foundation that serves to protect it from freezing. Single Seal can be used as a protective blanket for any weather. No more thick and awkward concrete blankets!
Advantages of Single Seal & Freeze Protect:
Easy to use by both homeowners and contractors
Dries quickly — in 2-4 hours
Can be applied to damp concrete and also newly-placed (uncured) concrete surfaces
Can be used in below-freezing temperatures of 28°F and rising
Inorganic, latex-free design will not support mold growth
May be painted over and also finished over with drywall and insulation
Additional Details
| | |
| --- | --- |
| Coverage | - 7,500 square feet (5 gallons concentrate), 1,500 square feet (5 gallons ready-mixed, 1 gallon concentrate), 300 square feet (1 gallon ready-mixed) |
| Boiling Point | - 212 |
| Specific Gravity | - (H2O=1) 1.1 to 1.3@20 C |
| Vapor Pressure | - / 20 C / 68 F Water |
| PH | - 8.5 |
| Hazard Information | - Eyes: Slight Irritation, Skin: Slight Irritation, Inhalation of Vapor can cause headache, irritation of nose, throat, and lungs |
| Strength | - Concentrated, Ready-mixed |
| Volume | - 5 Gallons, 1 Gallon |